Plans for the BowlMate can be found on my website here
http://www.robin-wood.co.uk/bowlmate.htm
--------------------------------
Want to win a book or bowl? read on or scan to the end.
Some may have noticed a sudden increase in bowlcarving recently and I think it is a great thing. I have been carving bowls for some time and before starting to teach I tried out all the different systems I have seen other folk using and was not really happy, particularly with the holding devices and tools used for finishing cuts on the inside. In Sweden they tend to use a low bench for the adzing standing astride it then kneeling beside it for gouge work,
Here is Steve Tomlin at work on one
Wille Sunqvist also uses a sort of sloping chopping block. My friend Michail Schutte uses a nice version of this and I thought I may go this route. Here is me trying it in Germany.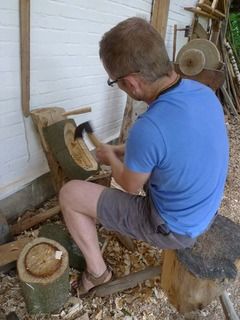 The problem with this is when adzing you need to keep coming at it from both sides which means continually reversing the bowl so it is hardly worth jamming it in place. For teaching new learners I wanted a system where they could work from both directions whilst standing upright and ideally I wanted something that you could carve the whole bowl on inside and outside.
I love David Fishers bowl horse for carving the outside but this is quite a serious bit of dedicated kit for a serious carver.
and then there is the system used by Guy Mallinson and Maurice Pyle, neither seemed to fit what I was after.
A whole lot more experimentation led to a new design of holding device which I found worked really well. You work standing to the side and can quickly turn to adze from either direction, the blank is held by a simple wedge but holds really solidly.
Having trialed the system with friends, and our kids I was happy enough with it to make 8 of them for my first bowlcarving course. We had a great time and the techniques worked better than I could have hoped (or maybe we just had a particularly great set of students)
http://greenwood-carving.blogspot.com/2 ... ourse.html
I shall be putting dimensioned drawings for the design up on my blog and here soon.
Now after all this work sorting the design I am happy for anyone else to benefit from it and no doubt others will tweak and improve it too. What I would like though is to give the thing a name, much in the way Mike Abbott did successfully with his Pole lathe 2000 and champion the lumber horse. I would prefer something simple and have been calling them bowl horses but if I could give it a less generic name that linked the design to me that would be perfect.
So there is the brief, I'll let this run until a week after the AGM so you have 3 weeks. You can post as many and as silly names as you like, discuss the whole idea of whether it is good to name these things or have set designs, the name that seems most popular, or catchy or sticks or just appeals to me will be the one I choose and then we will go back through the post to see who said it first.
Winner can choose either a book or a porringer bowl posted wherever they are.