Report on Norwegian Woodturning Cruise
www.

woodturningcruise

.com
The idea is to charter a ship...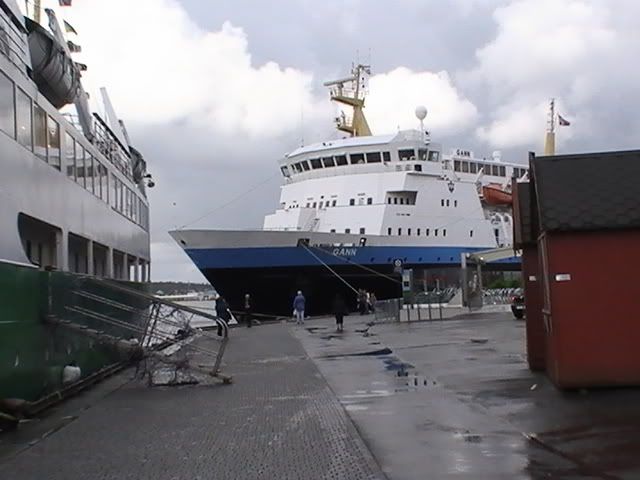 and fill it with woodturning supplies and machinery, visit various ports in Norway, charge the public 100 kroner (i.e. GBP 10!!) just to have the opportunity to buy the woodturning supplies and machinery.
The passengers pay approx GBP 2000 per head for this 11 day cruise, which I understand is pretty much the going rate for a Norwegian coastal cruise, so you could argue the woodturning is thrown in nearly free. Many men come to learn turning and improve technique, and their partners come to look at the scenery. That said, there were perhaps 15 female turners amongst the passengers.
The format was that the demonstrators would exhibit and teach passengers between ports, and exhibit to the public at the ports, while many of the passengers went off on shore excursions. Clare and I demonstrated on the dockside ( I'll put in video links to a later posting) , and we're rather quicker now at putting up and taking down 2 travelling lathes...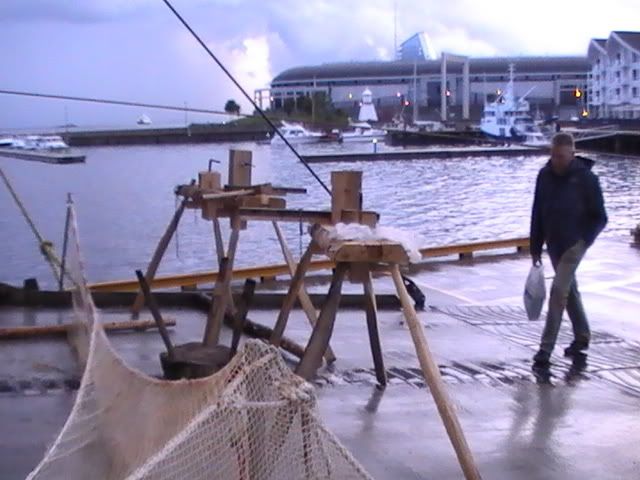 (I'll suggest this style be renamed the "Norwegian cruising lathe" - and we'll see if the name sticks!)
Clare had a sore shoulder, so was more into spoon-carving than turning, and attracted interest in this with one-on-one 'have-a-go' sessions.
Here's one of her student's spoons:
There were some 250 passengers and approx 30 demonstrators, including Stuart Mortimer, Jimmy Clewes, Dick Sing and Richard Raffan. Some of their work is so highly esteemed by collectors (especially in the USA) that they will sometimes sell a single piece for over USD 10,000
How can a piece of wood be worth so much money? Why does the market revere some and shun others? Picasso's paint and canvas was worth diddly-squat when it was at the art-supply shop. But after Picasso combined them, they're worth millions. He also had the same dealer from 1912 till he died, so clearly someone knew something about marketing.
There's something in the phrase "The universe responds to a clear intent."
Remarks on some of the demonstrators
Over breakfast one day, I asked Richard Raffan (probably the most famous turner in the world) how he got going. He told me he'd been very successful in the wine business, got bored with it, and decided he needed a change in 1970. His sister was a potter, and apparently could have introduced him to some famous cabinet maker, or to a turner. He decided to do an apprenticeship with the turner, which was dissolved within some months i.e. sooner than anticipated. He did not try turning as a hobby, he took the bull by the horns and got stuck in. Richard's remark: "If I'd gone with the cabinet maker, I'd be a famous cabinet maker now" struck me very powerfully. He made up his mind he was going to be mega-successful, and the only question was in which area.
Innovation seems to be a key ingredient in success. Stuart Mortimer creates spiral forms on the lathe. I don't know if he invented these, but his work is quite recognizable. Dick Sing turns tiny pieces with amazing precision - and he does other stuff as well. But I understand he is known for the tiny things more than anything else, and seems to get a very good living from it.
Jimmy Clewes creates DVDs on woodturning technique. By teaming up with video experts who have innovated with ideas such as the tool-mounted 'bevel cam', his sales are powerful. Just as you get cooking programs where the cook travels to various exotic locations, so Jimmy is publishing his "Turning the World" series, turning in one country after another. And so last week he was filmed in sunny Bergen, the water rippling as a backdrop.
http://www.youtube.com/v/4SiqM1N10s4&hl=en&fs=1
Should you ever see these scenes, see if you can hear the sound of a pole-lathe, as we were about 20 meters from his shoot. But given the kit and skill his video team evidently have, I rather doubt you'll hear us. He is also a highly-regarded teacher. Some of those he taught on this cruise commented how he would ask them if they wanted to leave his surface on the piece, or if they'd rather Jimmy removed the surface Jimmy had just put on, so they could try the surfacing technique for themselves. I see that being a good turner does not make you a good teacher.
Carving limewood - called 'bass wood' in the US - is very popular there. The expert here is Wayne Barton. He innovated by bringing the craft to the US from Switzerland in the 1970's, and writing a number of books. Since you need only 2 scalpel-type knives and a small plank of wood, it is very accessible.
Mark Baker, editor of the "Woodturning" magazine, tells me few people make money out of books, but they do get your name noticed.
Arthur Aveling sells King Arthur's Tools which are based on the angle-grinder with some abrading device e.g. sand-paper, small teeth or chainsaw blade. They produce dust and noise, and you'll hear them in some of the video sequences. They are not my thing, BUT he sells shed loads of them, and even in the US recession, he tells me his sales are up 15%. He is another innovator, and you'll see video-silliness in a later post as he inducts various people into orders of the Round Table. Some will say this is over the top. I'd agree, and I love the man's chutzpah, and the sense of fun he creates. Here he is admitting Richard Raffan ( probably the most famous turner in the world) into the Round Table: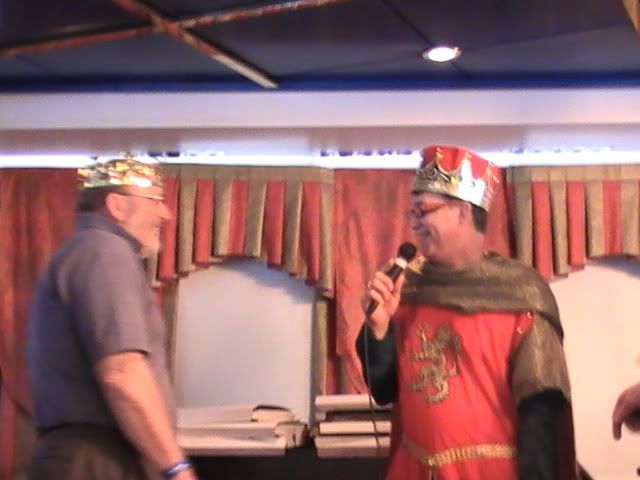 Richard Raffan got into the middle-rank of knights, I was put in the most juniour rank.
What is relevant in all this for greenwoodworkers?
The biggest lesson I take from this is: If you want to make a quid out of woodwork, be prepared to innovate and create something new. And that surely applies to us greenwoodworkers too. Up to now, if I had thought about this at all, it would be to see what products had been made in the past, and work out better ways of making those that interested me. My new question is: what new product can we each invent? What new thing can we create? I now don't want to make only old products - I want to make greenwood work relevant, either with new products, or by transmitting skills which could become very carbon-relevant very soon.
Many Norwegians would come past and say "Ah the old ways... " and then smile patronizingly - like you do in a superior way at a child who has just improved on some minor skill.
Half-way through the cruise, I decided to respond: "Yes, and these old ways may yet become very modern." Try this response yourselves, and just count the seconds until they say anything.
I don't know just what people are thinking while you are counting, but it will be a version of: "What if carbon rationing were introduced... ? What if energy becomes prohibitive in cost? How soon will I have to change... ?"
We sold enough to keep us in beer money, which in Norway was a surprise.
Here's a picture of the shop set-up, with our signage in Norwegian...