I glued with 2-part epoxy glue 4.5 mm diameter nails into 4.5 mm holes, and they were 25 mm proud of the mandrel-end.
Sadly, when I whacked the core off the mandrel, the tangs came with them.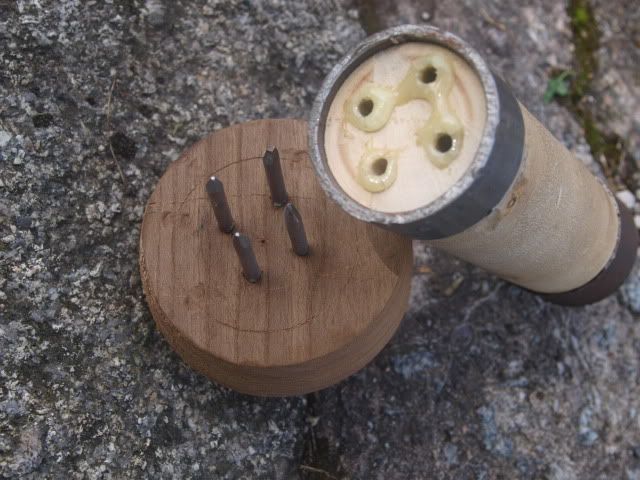 Any suggestions to better fix tang to mandrel?
Robin Fawcett aka Treewright uses nails for his mandrel tangs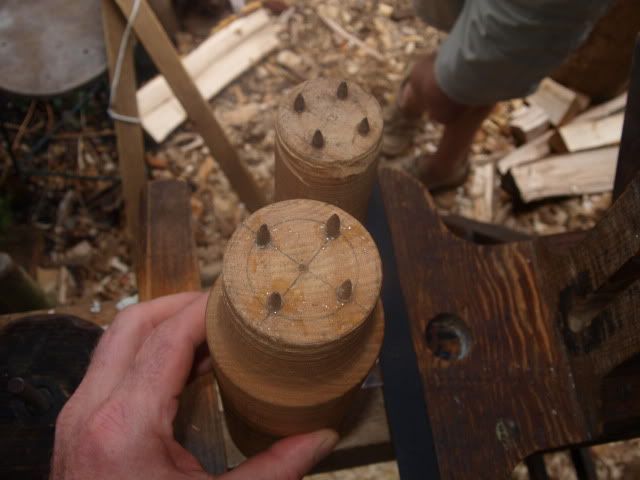 Perhaps I could try shorter tangs - you'll see Robin F's are 5 or 10 mm proud of his mandrel and approx 6 mm diameter. I could also try using green wood for the mandrel which will then shrink onto the tangs as it dries, thus gripping the tang more tightly. Or drill 5.5. mm holes to allow more glue to bind to the nails...
I usually use 40 mm long M8 engineers bolts and beat the head into a screwdriver or tang shape, and these do stay secure, esp when glued. Does anyone know how Geo Lailey fixed his tangs into the mandrel? He did not have access to 2-part epoxy glue! I think the Lailey tangs were rectangular in section.
Here are his mandrels: