It's been a while since I had anything to add to this forum; but here goes. I have been turning bowls lately; mostly my work is furniture. But I got this section of an apple tree that I couldn't resist. I wanted to just try to show some folks that you don't absolutely need a dedicated "bowl" lathe to turn a few bowls. I use this quasi-framed lathe for my spindle turning and sometimes turn bowls on it as well. As a woodworker I used to know once told me, "I didn't know I couldn't do it."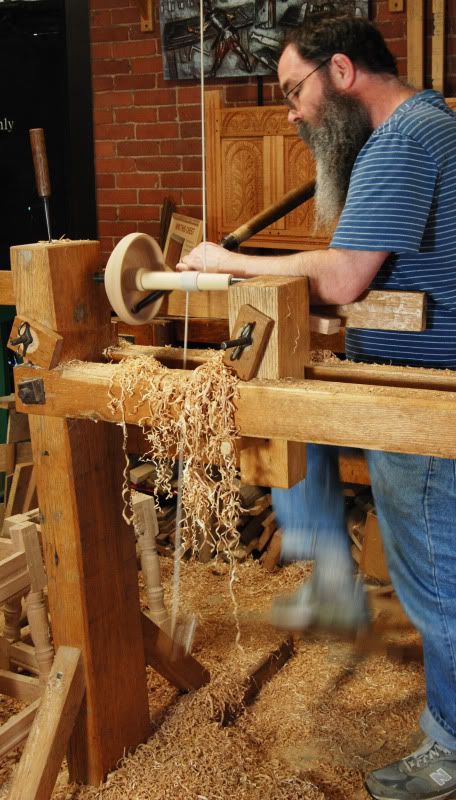 My tool rest sits on two iron brackets that run through the headstock & poppet of the lathe. the brackets are tightened by wing-nuts, thus gripping the tool rest against the lathe parts. I shim it further out when I am turning bowls. I don't turn really large-diameter bowls; nor very deep. Maybe 4" deep x 10" dia would be the largest I have tackled this way. smaller is easier. I use a mandrel with a turned tenon fitted into a 5/8" hole in the bowl's middle. I think I got this notion from Mike Abbot's book many years ago, then verified by the York archaeology book, I forget what it's called. Some of this was before I knew Robin Wood existed! Then Ned Cooke sent me a postcard of Robin turning a huge nest of beech bowls, and I thought I'd stick to joinery.
here's more shots of the apple bowl today.