I am interested to hear how others get on with an idea that has been working pretty well for the last month.
I find I get really good adjustment for tool-rest positioning
by using chain-loops and wedges. The tool rest is locked absolutely solid when you drive the wedges home.
In these images, the tool-rest happens to cross
under
the turning axis, rather than just at an angle to it . That allows me to get really close to the work for a smoother surface.
I have only just tried tool-rest crossing the axis , and I find the hook sometimes digs viciously
, but I will persevere.
Anyway the point of this post is not where the tool rest lies in relation to the axis, but how you fix it.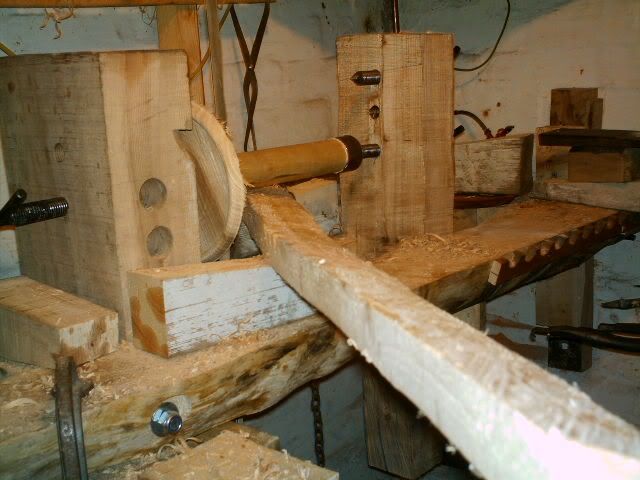 Left-hand view of lathe - I did not need to use a chain-loop to fix the left-hand wedge, but I could have done.
My poppet heads have 200 mm long 'needles' of M20 threaded bar, with tips turned to 60 degrees on a metal-worker's lathe and 'T' pieces welded to them. (Having two of these needles in a poppet head give you variable height, but so far I have not used the upper one.)
Close up of wedge - unfortunately wedge is white, like the wall behind.