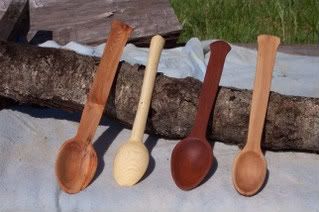 Hopefully, you can see a pic of 4 spoons. From left to right - 1) maple, 4 axes to make bowl wider and handle thicker; 2) elm, 2 axes to make handle thicker; 3) mahogany, 2 axes to make bowl wider; 4) sycamore, single axis. To make the bowl wider, I move the axis on the bowl end of the spoon about 1/2" left or right of center and parallel with top edge of bowl of spoon. To make the handle thicker I move the axis on the handle end of the spoon 1/4" to 1/2" at a right angle to the top edge of the bowl of the spoon.
All are sanded with a flax oil finish. These were turned on a power lathe but I have turned similar ones on my pole lathe, but I don't sand them and finish with flax or walnut oil. I carve the inside of the bowls with a hooked knife after splitting them, unless the grain is crooked or there is evidence of branches off the pith in which case I saw them.
Robin, Thanks for tutorial on posting pics in 4/03/08 message in "Time for a forum rebrand?" thread. It worked!