Design suggestion for a foot-powered bowl lathe bed
Here is the way I build them:
You donÂ't need a chainsaw and it is quite quick, and also portable. You could get a group together and assemble 10 of these in a day, which makes sourcing long drill bits much easier. And whilst I will sell you such a lathe if you REALLY want me to, you may prefer making it yourself, or getting together with other folk for mass production - which would be a better thing!
IÂ'll be interested to hear your comments!
(IÂ'll post later pictures of how I fit poppet heads and tool-rests.)
Take two hardwood planks. Those used here are sycamore and 75 mm thick, 1500 mm long. The tops are approx 100 mm wide, the bottoms are approx 130 mm wide. I would not make this any shorter than 1300 mm, as it will be too light and youÂ'll struggle to fit in poppet heads and a tool rest.
You can mill them yourself from a log as I have done, or just buy your hardwood ready sawn.
(If you do mill yourself, it may be worthwhile to have the planks sawn or planed square and flat on 3 sides, just so you have some square edges to measure your angles from - and that saves HOURS of time!)
HereÂ's how I do it:
Drill one 14 mm diameter hole 75 mm from one end. YouÂ'll need a long drill bit.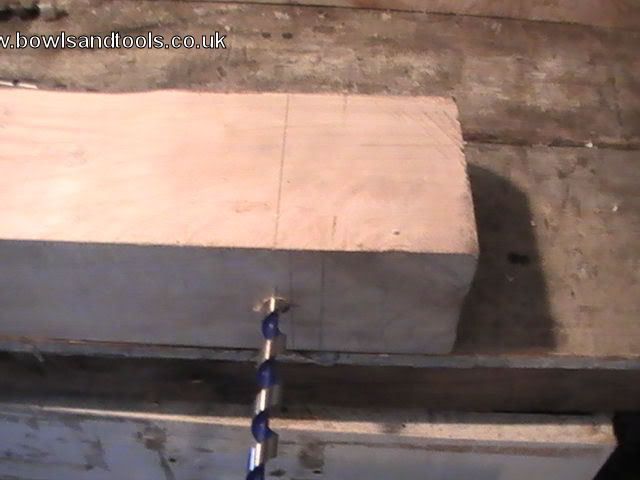 Take great care to align the drill both horizontally and at right-angles to the bed.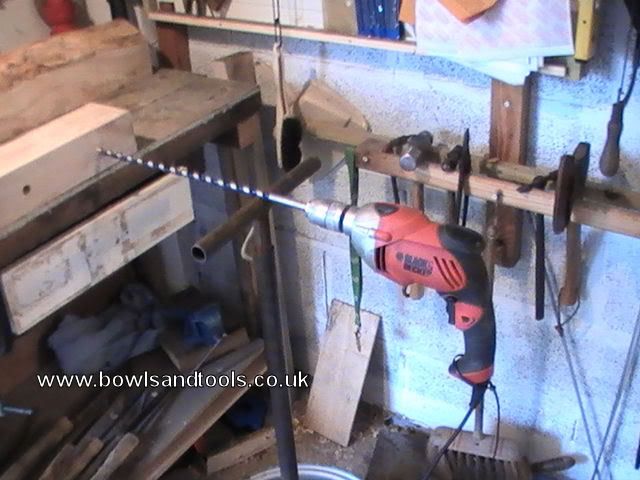 To sight the drill at right-angles to the bed, I used a square and a saw as a straight-edge.
Having drilled a hole at each end of one half of the lathe bed, I then align the other half next to it:
I offer the drill up to the hole I have made already to align the drill bit perfectly into the other half of the lathe bed: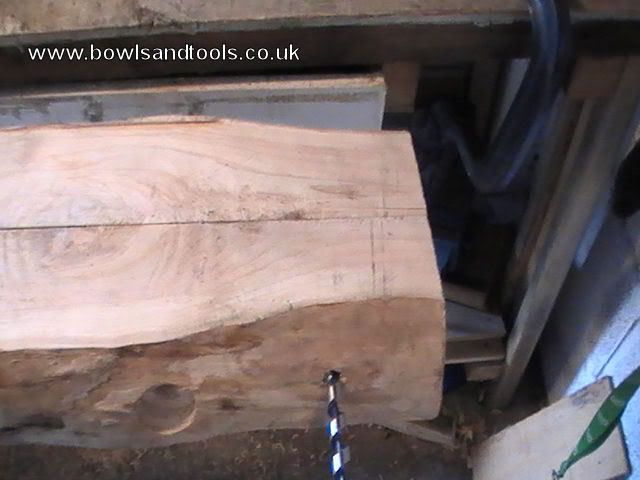 Now, lay the two halves of the lathe bed on a flat surface and make 2 hardwood spacers each approx 100 by 75 by 75 mm. Drill a hole so in each spacer so the lathe beds will be separated by (say) 100 mm. This means your poppet heads' tangs will be probably be 98 or 99 mm wide to just pass through the gap.
I position the spacer approx 10 mm
inside
the end of the lathe bed, so I then have a convenient place to set poles to support a bungee rubber spring.
Take sufficient length of 12 mm threaded bar and self-locking nuts and washers: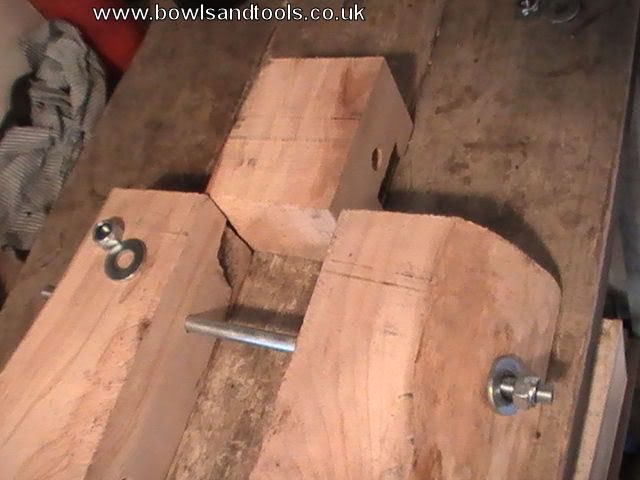 And pass the threaded bar through the spacer:
To allow the washers to lie flat, you may want to counter-sink a larger hole: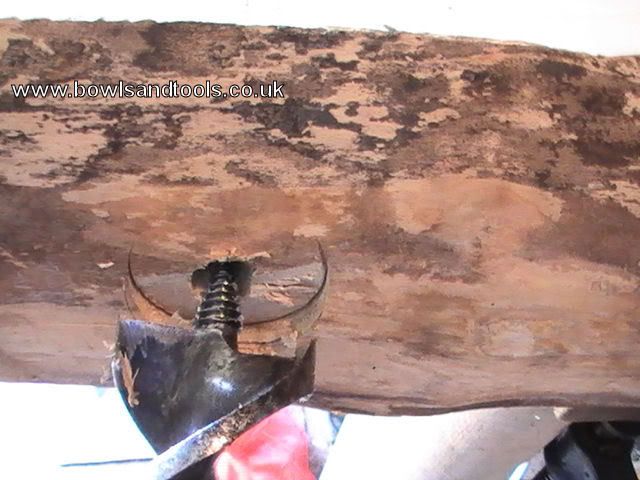 Here is the lathe-bed, ready for the legs-holes to be drilled.
I prefer to drill the leg-holes from the bottom, so I turn the bed upside down before drilling. That places any lip or burr of wood at the top of the lathe as the drill exits and that makes it easier to knock in the legs from the underside:
I now mark a 45 degree angle: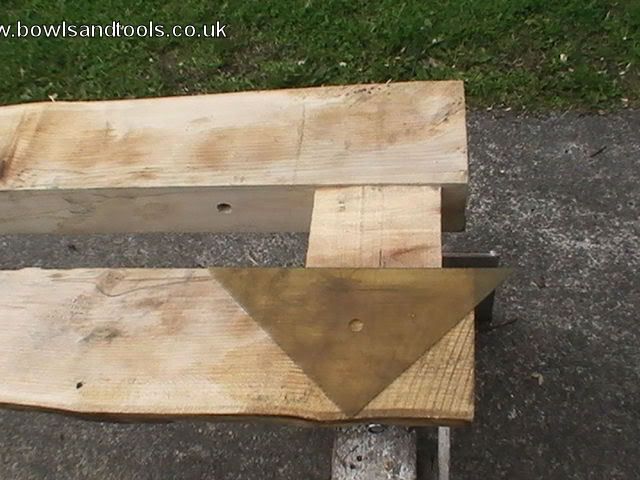 YouÂ'll have to guess just where looks to be the right place to draw this line. In these pictures the line starts 170 mm from the right-hand end of the lathe-bed.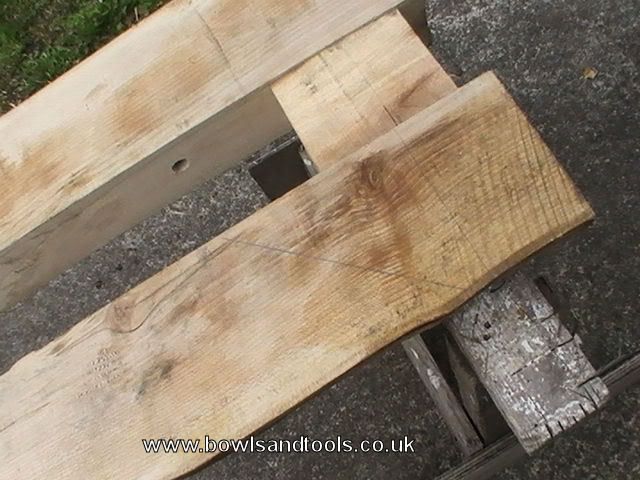 Now take - or make - some sort of bevel gauge, and set that to 112 degrees:
Either clamp or just place the bevel-gauge on the lathe-bed to act as a guide for your bar auger. YouÂ'll need leg-holes of at least 32 mm diameter, and I find best results with 38 mm diameter auger. (Alternatively you could fix the legs with European or Romanian greenwood dovetail joints, but I have yet to try these on this design. For more information on this, refer
http://www.youtube.com/my_videos_edit2? ... D%26dm%3D0
and also
http://www.youtube.com/my_videos_edit2? ... D%26dm%3D0
)
Now you are ready to drill: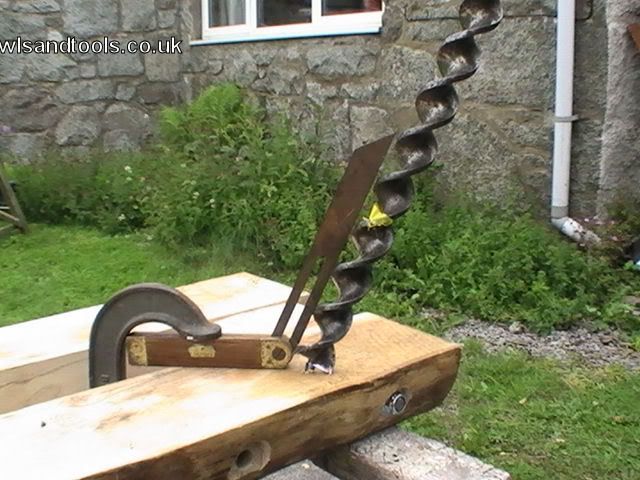 If you set the bevel-gauge just to one side of your pencil line, you get a better sight-line: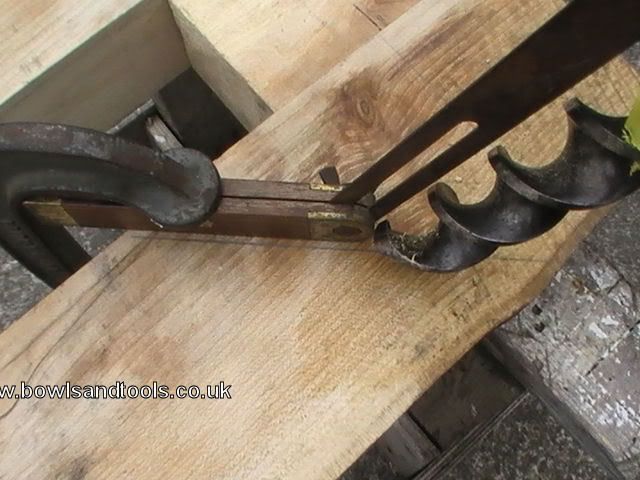 Now you drill all 4 leg holes in the same way, and knock in your legs, and turn it right way up. You may want to trim each leg so the top of the lathe bed is somewhat horizontal. (Both cups of tea and bowl-hooks are more stable on flat surfaces!)
Thanks to Robin Wood and Will Wall whose chain-sawed 'slot-log' design inspired this. Robin's latest 'slot-log' version is seen here
http://www.bodgers.org.uk/bb/phpBB2/viewtopic.php?t=502
.
If you have access to chainsaws and suitable roundwood, I say the 'slot-log' has more aesthetic appeal and authenticity than this suggestion. And if you want to get a lathe built in a morning, and you can source sawn timber more easily than roundwood, you may well consider this 'bolt-together' version.