NB this is intended as help for individuals who are just starting out bowl turning - if you would like to use it anywhere else for any other purpose please ask my permission first!
Before you start
think about how to stand so you can maximise your power:
* stand close to the lathe bed and keep your stance upright so your whole bodyweight pushes down on the treadle
* make sure you can push the treadle from its highest point to its lowest point on every stroke
Now to look at the three basic ways you can adjust the tool angle and the effect each has; twisting, side-to-side, up-and-down: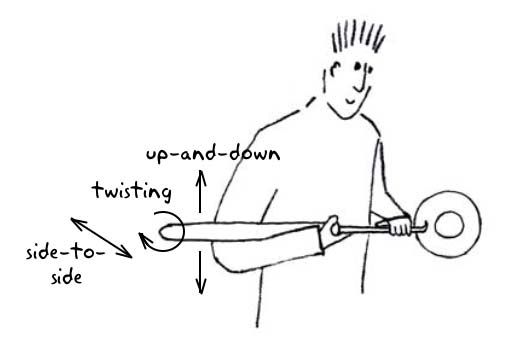 Twisting
* the more upright the hook is, the finer the cut
* if the tool keeps digging in, twist it anticlockwise so it cuts less aggressively

Side-to-side
* the tool cuts at 90° to the handle so you need to adjust the side-to-side angle as you cut from base to rim
* if the surface of your bowl is a series of steps concentrate on keeping the top of the hook in contact with the surface you have just cut
Up-and-down
* the tool should remain roughly horizontal for most of the outside of the bowl - you can hold the handle either under or over your arm depending which is firmer and more comfortable
* at the rim you will need to raise the tool handle, putting it on top of your arm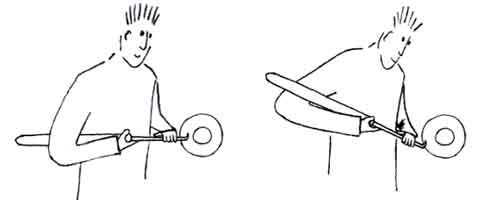 Once you have practiced this on the outside of a bowl where it is easier and you feel you have a basic grasp of the movements, you should be able to transfer the principles to getting the tool to cut inside.
If you watch video of Robin turning
here
you'll see that he does other things too, like sometimes flipping the tool over so the hook points downwards. This is not a different technique it is just greater mastery of the tools. The reasons he does such things are often stunningly simple, like he's just looking for a sharper bit of the hook for a finer cut or he's adjusting the angle so shavings don't spray in his face or my camera.
New video here:
In the first, distant shot notice how the tool handle starts almost pointing towards the camera as Robin cuts by the base then swings around to being side-on to the camera. In the second, close-up shot see how the tool takes an even layer off the surface of the bowl like peeling an onion. (You can watch this video in high quality by clicking on the link at the bottom right hand corner of it on youTube.)
Next time you're turning have a think about this and let me know if it helps!
Nicola