Hello, decided to make some dovetailed legs for my chopping block and thought it may be of interested to others.The design is based on eastern european ones, discussed before on these boards.
The timber is all Oak, though I could have used Chestnut or any other timber that is durable outside.
Crosscut block and some oak branchwood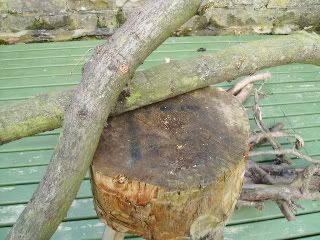 First job was to cut 3 leg blanks.I tried to incorporate a crook to give the legs a natural outward splay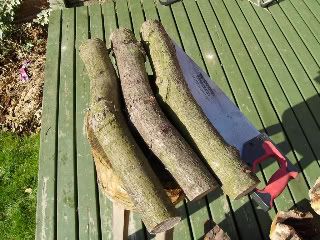 Next axe out a flat that will register against the side of the block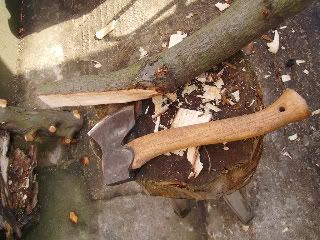 Next job is to carve out the tapered dovetails.Below shows the material that will be wasted pencil marked.(looking from the register flat)-note that the dovetail shoulders need to be straight because they will later engage in a straight sawn dovetail mortise.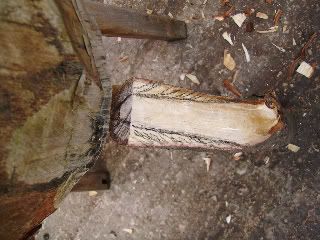 Here's the chopped dovetail
..and the others done
Then mark out where the dovetail mortises need to be cut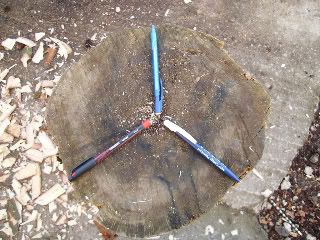 Then offer up the leg with the flat side against the block and mark off. Remember this will be the bottom of the mortise, so sawcuts will start inside these marks and will splay out to the bottom of the mortise.
Cutting the mortise inside the marked line at an estimated angle
A central kerf is sawn to assist waste removal and the waste chiseled out to a flat bottom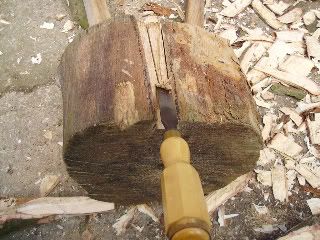 Then the leg is knocked home with a mallet
Here's the last mortise being cleaned up
Took about an hour and just needs legs to be tidied up a bit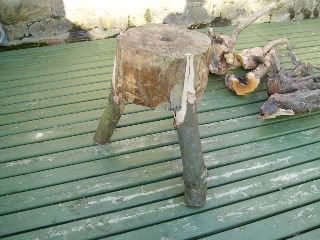 Hope this has been useful, any questions- see Rob Wood
All the best John