I just thought I would share how I do my mark, because it could be adopted by anyone wanting to do a makers mark..
My surname is Pickett and after looking at some old family name crests, I saw that some of them have a pickaxe on. Being a builder who often uses a pickaxe I wanted to use that symbol to go on my work.
I thought about how I was going to do it, and was going to ask a Blacksmith to make me something, but when I was using a soldering iron one day, an idea came to me..
This is what I did, and what anyone can do if they have the bits needed..
The things you need are a soldering iron with removable tips, a small file and a large headed "clout nail" that will fit inside the soldering iron. Thats it..!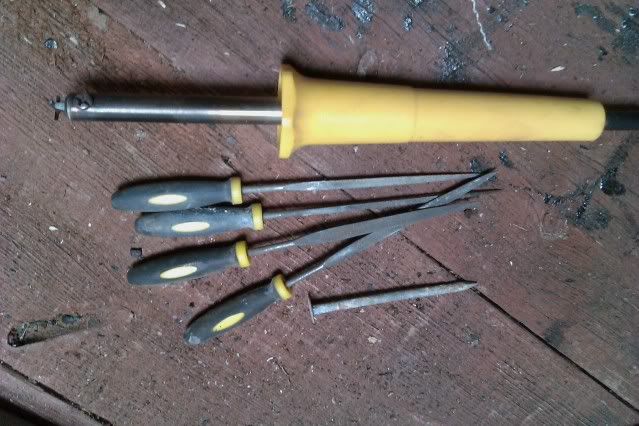 Next you need to file down the nail head to the shape you want. This is my pickaxe I did, also showing the nail size I filed it down from.
Once done remove the old tip from the soldering iron and put you're shaped nail in..
Then heat up the iron and brand you're woodwork :0)
Obviously some shapes will be a problem, but many shapes, letters and symbols could be filed..